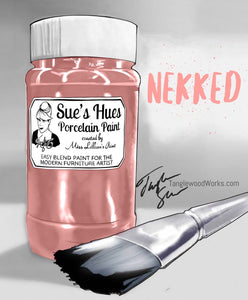 Nekked
Nekked is more than a neutral, she's a shapeshifter! Against blue she's peach, against pink, she's brown. Against green, she is antique rose. She delights me because she is always the perfect tone when white is too stark. She is perfection in all her Nekked glory!
Experience the beauty of SUE's HUES Porcelain Paint, a revolutionary line of clay paint created in collaboration with Miss Lillian's Paints. Designed specifically for artists, SUE's HUES Porcelain Paint offers a unique selection of signature colors personally curated by Tanglewood Sue herself.
Key Features of SUE's HUES Porcelain Paint by Miss Lillians:
Intensely pigmented jewel toned colors for vibrant results.
Seamless color mixing without any loss of vibrancy or muddiness.
Fast-drying layers that facilitate blending while preserving underlying layers.
Water-reconstitutable formula for advanced blending techniques.
No need for priming or sanding—simply prep your surface with your preferred deglosser or cleaner. Watch our comprehensive tutorial here: [https://youtu.be/xv8M0k52ONg]
Directions for Use:
Prepare your surface for painting.
Dispense a small amount of paint and apply using brush tips.
Layer multiple coats using the same or different colors.
Utilize a mister to blend or reactivate the paint as desired.
Once you achieve your desired look, seal the finished piece with wax or a sealant.
Discover the endless creative possibilities with SUE's HUES Porcelain Paint by Miss Lillians and elevate your artistry to new heights. Get started today and bring your visions to life with our exceptional chalk style paint.
*The color depicted in this image reflects the dried and sealed paint color, NOT the color of the paint in the jar. Clay paints all change color when sealed and we want you to choose exactly the color you are looking for. We hope this helps.