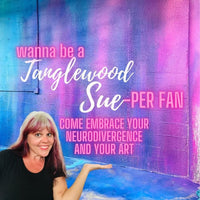 Join My New Painting Group for ADHD Creatives
Are you an artist feeling held back by your neuriodivergence rather than harnessing all the SUPERPOWERS you have been granted? 

Do you wonder why you seem to be unable to get started, follow through, or reach your financial potential? 

Do you friends and family grow weary of your NEW IDEAS, or wonder why you wont just stick to one thing?
I'm so glad you have found us my friend!
This community connects neurodivergent creatives, in a supportive space where creativity can flourish, artistic expression can be shared and our unique approach to art, business and life can be celebrated, not scorned.
Click Here to Learn More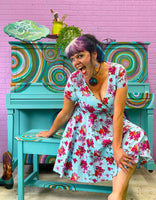 Hi! I'm Tanglewood Sue
I'm here to help you in your creative journey any way that I can. Whether you need advice on the best chalk-paint, how to prep your furniture, how to create a specialty paint design or you just want to have a great laugh. I'm your gal!
About Me
NEW Tanglewood Sue-per Shifters
Tanglewood Sue Designs for Sale