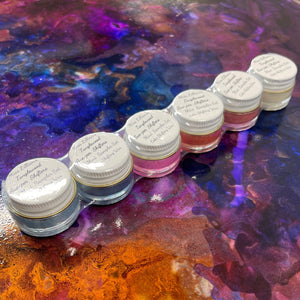 INTRODUCING NEW Tanglewood SUE-per DUPER Shifter Jewels created by Miss Lillian's by No Wax Chock Paint! 
NOW AVAILABLE IN MINI SAMPLER SETS!  Each Set Contains 6 SUE-PER Shifting CHROME  jewels in .25oz jars. 
Set One: Atlas, Aurora, Celestial, Galaxy, Milky Way, Nova
These First-of-their-Kind Color Shifting Metallic Waxes  Shift to MULTIPLE COLORS depending on the angle of the light.
The main difference between the CHROME and the original Sue-per Shifters, is their extreme pigment content. Instead of a metallic sparkle the CHROMES are opaque and completely reflective when buffed.
Tanglewood Sue envisioned these jewels for her (in)famous gothic furniture makeover but you can use them on any kind of project where you want to add a bit of whimsical metallic shimmer. 

Although these jewels are designed to use over dark surfaces, they will also work over light tones and unpainted wood. For optimum effect match the base color in the jar to your paint of choice.
The base color will "Hide" the wax color so all you will see is that crazy shimmer!
DIRECTIONS for Tanglewood Sueper Shifter Metallic Waxes:
1. Apply using your fingers or a brush. Gloves are recommended.
2. Use a very spare amount and spread evenly to avoid streaks

3. If a more intense color is desired additional coats may be added after the first layer has dried. (10-15 minutes)
4. Multiple colors may be blended together 
5.  Wax may be removed with clear wax if needed before was has cured.
6. Once wax has cured (best to wait overnight) use a soft clean cloth or brush to buff it to a metallic sheen. This hardens and seals the wax.
Read the full Blog on Tanglewood Sue-per Shifters here: https://tanglewoodworks.com/blogs/all-about-that-paint/using-tanglewood-sue-per-shifting-metallic-waxes
Grab the FREE Color Chart Here: www.stan.store/tanglewoodsue
Although Shifter Jewels are Self-Sealing, you can always add our Miss Lillian's  Luster Topcoat's for extra protection.
SHIPPING FOR THESE IS A FLAT RATE OF 10.00 DUE TO THE NATURE OF THE GLASS JARS. ORDER AS MANY AS YOU WANT FOR THE SAME 10.00 RATE.