Painted Upholstery Cushions Makeover
Today I'm gonna teach you how to do painted upholstery to create your own amazingly colorful patio decor with just leftover paints.
Table of Contents
Here's the full compilation for you visual learners!
Painted Upholstery
Each year I think I'm gonna get new patio cushions to spruce up my porch, and each year I'm too overwhelmed by the price of cushions to make it happen. I finally decided to take my old dingy cushions and see if there was any other option.
I had already used Miss Lillian's No wax Chock Paint to paint upholstered chairs and even a couple of sofas so I figured I could certainly try using these paints on my outdoor cushions.
Everything you need to know is in my handy video compilation above, but here is a list of supplies and steps that you can view at a glance.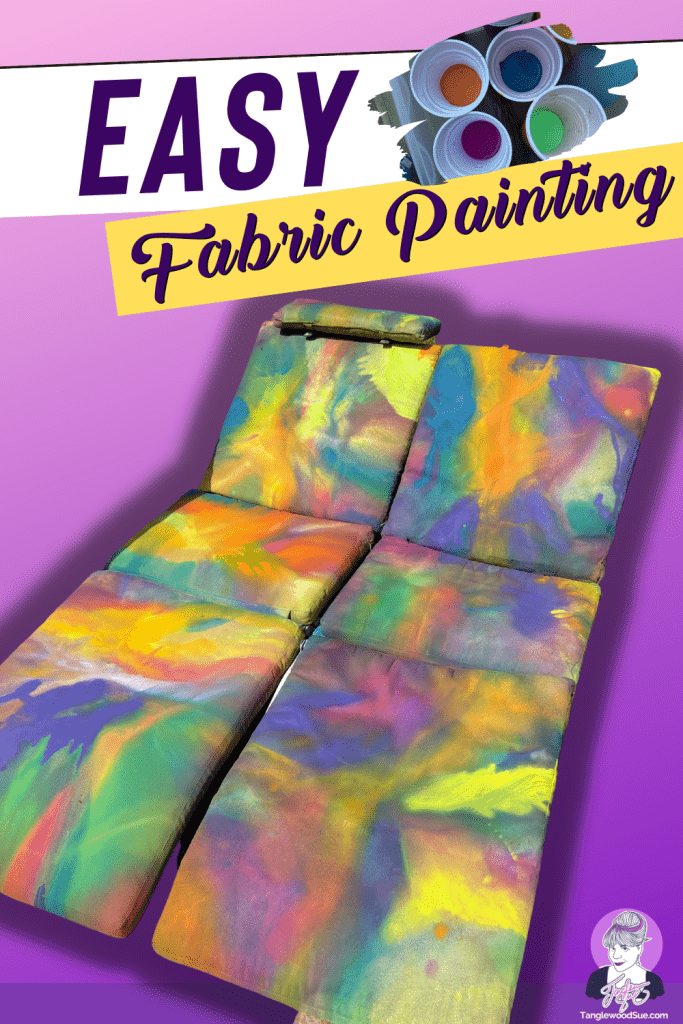 FAQ about Painted Upholstery
Is fabric painting hard? Not at all but it does take a certain amount of patience. The patience required is to paint in layers. Applying thick layers will get the job done faster but it may result in cracking paint or stiff fabric. Think of it like a croissant. It's all the layers that make it so yummy!
What kind of paint can I use on the fabric? Honestly, you can use any paint depending on the look and feel that you are going for. Acrylics will work but in my experience, they leave a rubbery feel. Same with Latex paints. If you are going for more of a leather feel that would be ok. I've used clay paints ( Like Debi's Design Diary Paint) which does work but it needs to either cure of be sealed with a topcoat which can stiffen the fabric.
How do you paint fabric without it getting stiff? The trick is to keep the paint watered down and to sand between layers.
Should I add fabric softener to keep it soft? You can do this but in my experience, it did not change the end result. It did smell nice though :)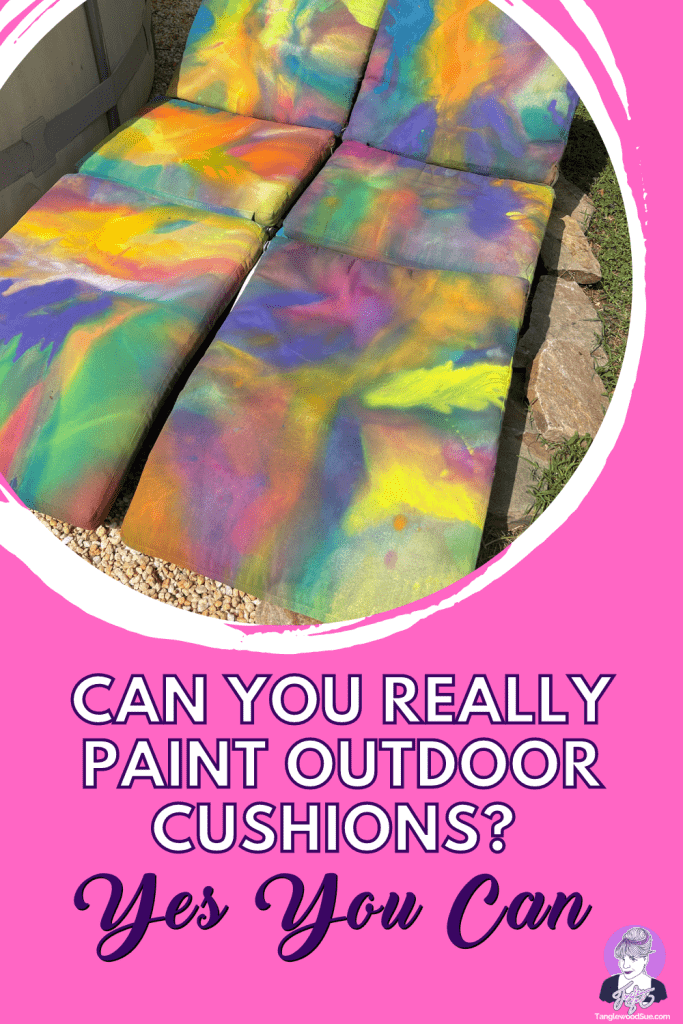 What Fabric Paint is best? My favorite is Miss Lillian's No Wax Chock Paint. The reason is because of the intensity of the pigments, which allows the paint to be watered down but still be vibrant. The other reason is that the topcoat is built right in. Even watered down it forms the perfect protective layer even for outdoor cushions.
Is Fabric Painting Expensive? It does not have to be. I use the last bits of my paint jars to create these paint-poured cushions. When the paint starts getting a little thick or there is only a little bit left you can add water right into the jar and shake it to get every last drop. I will also note that painting what you have is always less expensive than buying new!
Will the Painted Fabric Stay Vibrant? In my experience, the answer is certainly yes. I've left my painted upholstery cushions years out in the sun and the rain over the years and they have held up remarkably well.
Supplies for Painted Upholstery
Natural Fiber Cushions (cotton or canvas types of fabric will work best)
Plastic cups
A water source
Stir Sticks
Gloves
Miss Lillian's No Wax Chock Paint (5 colors at least)
Tarp
Bench if possible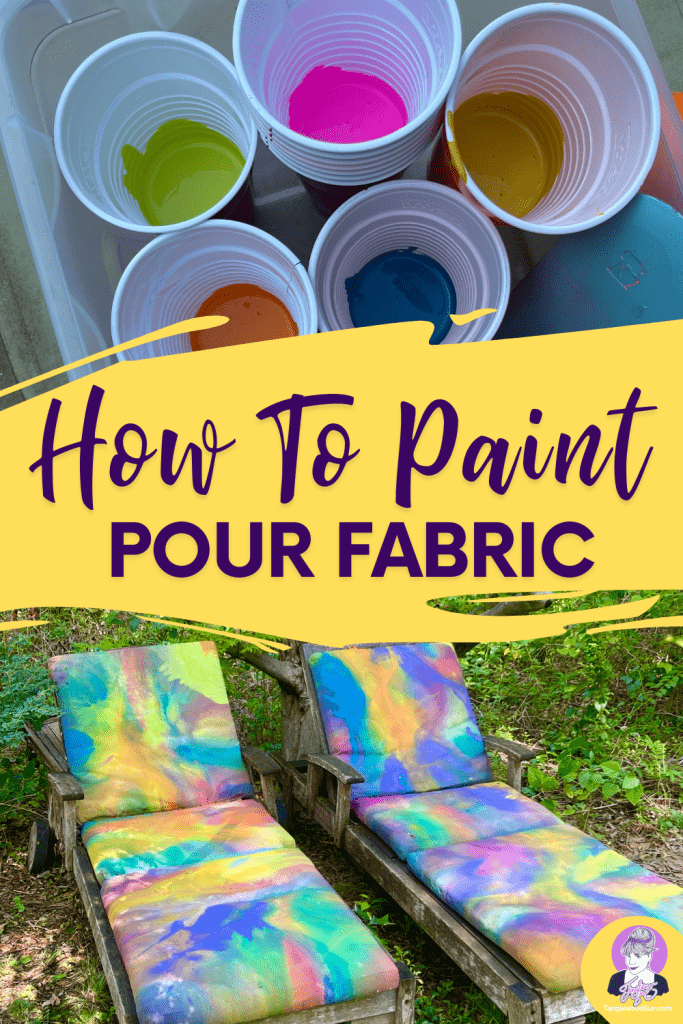 Steps to Paint Pouring Your Fabric Cushions
First thing is to find your cushions for painting. Its best if there is no pattern but if there is one you can spray with watered-down bleach to try to get to a light surface. Look at end-of-season sales or thrift shops for older cushions you can experiment with.
Wash your cushions. Best to just toss them in the washing machine if you can but if they are too large, just give them a good rinse and let them dry in the sun.
Lay your fabric cushion out on either a tarp or a long bench. Getting your cushion up off the ground will give you more control over the paint flow. You want to avoid the paint puddling and getting muddy.
You don't actually need fabric paint to paint fabric. As a matter of fact, I have not seen it work very well and it does not come in many colors.
I use Miss Lillian's No Wax Chock Paint because it is super saturated (so watering it down does not decrease the colors) and the topcoat is built right in.
Pour at least 5 colors into 12 oz. cups. Add 2/3 water to one-third paint and stir. You want the consistency to be thinner than pancake batter but thicker than a watercolor.
Mix them up really well.
Spray down your cushion to open up the fibers for the paint.
Now's the fun part! Just start pouring! Swirl it, splatter it, or even let the colors mix together. Pull and lift the cushion to move the paints around.
Now step away (don't overwork it) and let it dry
VERY IMPORTANT: Next step is to use your sanding block to sand the whole thing. This is how we keep the fabric soft.
Once dry and sanded you can repeat the process (if necessary) I did mine in one coat and got a lovely watercolor effect. I did it again and got a much more vibrant paint pour effect. Both were lovely but you just have to choose what works best for you.
Let it dry again and sand it again.
Grab an iced Tea and have a seat. You deserve it!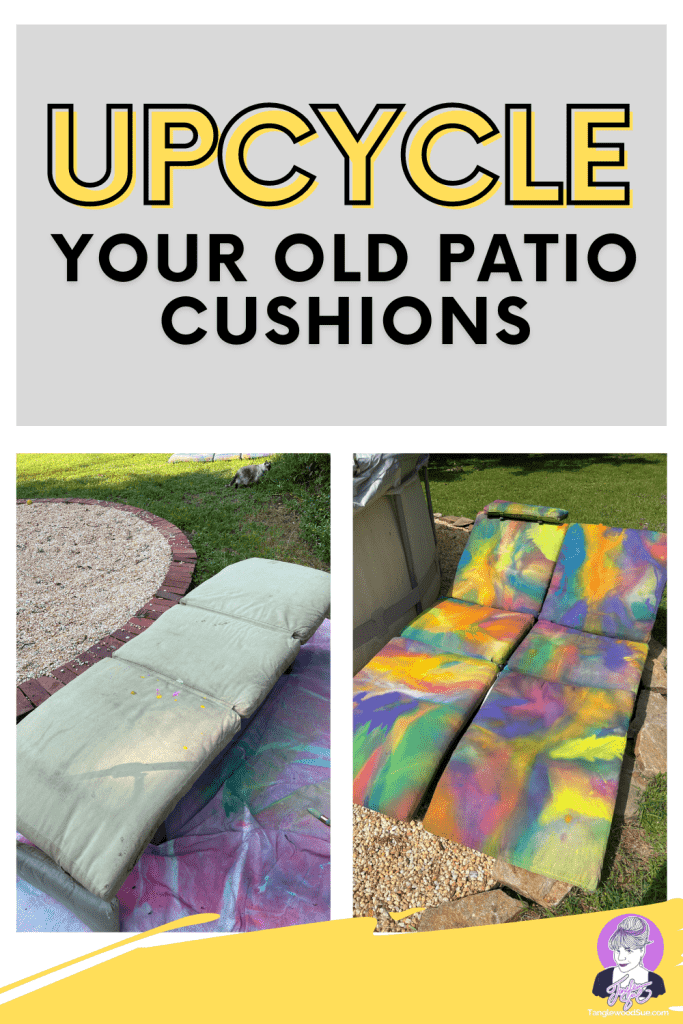 I am sure you have enjoyed learning how to upcycle your cushions. You will definitely love this post on furniture painting.
/*
*/