Goodbye Yellow-Green Road
Today is the day. The last full day of my lease at 5132 Baltimore Avenue, the home of Tanglewood Works in Hyattsville MD for the last 5 years of my entrepreneurial life. It's a bittersweet day. I've never been more excited than the day I got the keys to this amazing space, seconded only by today. The day I hand them back.
Tanglewood Works After
It's not the first time I've had to say goodbye to a space and a dream. I spent nearly 5 years trying to turn a little front corner of a salvage yard into an Upcycling haven. It WAS a haven actually. My store was a constant source of inspiration and beauty for those salvaging materials from Community Forklift.
My upcycled Garden alone drew folks in from all over the area...
Tanglewood Works Begins...
I was convinced that I would never grow unless I had a real showroom to display my furniture art. I didn't think it was possible to afford a larger space but my tenacity took over. After finding a long-empty building in Hyattsville I set my intention.
Tanglewood Works Before
If I could not afford to rent the whole space, what if I just rented the windows and created Macy's like displays to delight and entice passersby. My idea was that sign would lead them around the corner to my shop in Edmonston. Why Not?
Once I approached the landlord for the umpteenth time with yet another "Idea" he finally decided to take a chance on me and work out an affordable experiment. At this point, I was given than 6 weeks to open and I was driven by the challenge.
I brought in vendors, friends, and family who all pitched in to help in any way they could and by the start of the holiday season, we had created a bonafide store, filled with all the color and creativity I could muster.
It's been such a learning journey and I'm proud of almost everything I created, tested, bought, bargained, negotiated, pleaded, borrowed, expressed, and mostly, learned.
Eventually, my landlord allowed me to take the interior expression of my space onto the outside by submitting a design for a new paint job. With help from the Neighborhood Design Center and many many paint samples from WIll's decorating, a once drab office building is now a beacon of colorful creative expression.
I must admit I was nervous that the community would be a little freaked out by my bold color choices (not everyone embraces chartreuse the way that I do), but I've only ever gotten positive feedback on the joy our building now evokes.
I have had such joyous moments in this building including, but not limited to hosting innumerable community events.
Here are just a few of the events hosted by Tanglewood Works
A full-on Haunted Hallway for Halloween trick or treating
Our annual Green Friday sale where wearing green got you a free handmade ornament
Small Business Saturdays
Light It Up: community contest to showcase holiday lights up and down the SoHy Corridor.
Upcycling classes galore including Intro to furniture painting, Advanced Furniture Painting, Paint Pouring and so many more I can't remember them all!
Are you tired yet? I'm exhausted :)
LIVE from the Shop, Live DIY classes right from our in house craft studio
Seasonal Window displays became an event unto themselves. Painted by local artists and volunteers
Annual Upcycled Valentine's Day Card Making Party
When My Dead Aunts books moved in we even hosted concerts and book readings.
My band, The Wild Anacostias serenaded the shop during the Arts and Ales festival and we participated in any and all Hyattsville community events over the last 5 years.
Most enjoyable of all was seeing my kids grow up in this space. Helping out with festivals and intertwining our own holiday traditions with the shop's, created new family traditions. Sadie now works at the bookstore which warms my heart. I've had many staff members over the years but Pam, Jan, and Johnna became my dear friends and constant support systems through the years. Peter McClintock not only helped with all buildouts and sign hangings, but he also provided the beauty of his own art and constant words of encouragement to this DIY Diva.
It's sad to let this chapter officially close and I'll need a bit time of time to embrace where the roulette wheel of small business has shot me out. To be honest, I'm not where I dreamed of being when I opened this brick-and-mortar upcycling shop.
I thought Tanglewood Works, would be a beacon of maximalist dreams, drawing color lovers from all over the world to this magical destination in the heart of Historic Hyattsville.
It IS actually- but not in the brick-and-mortar version I had in my head.
Instead, it's worldwide, brighter than ever, and nearly completely online. I could say it's because of Covid, but really it started before a pandemic.
It started when I realized that just because crazy, bright and colorful is my lifeblood, does not mean it's everyone's cup of chamomile.
Proselytizing purple over shades of farmhouse white was more of a Sisyphean task than I had ever imagined.
For every person who fell over themselves for my insane creations (you know who you are and I thank you), 20 more asked if I had anything in grey, ecru, or cream. They would show me the "look" they wanted from Pottery Barn and in this size, and this price... I glazed over at grey! I have to be honest that as much as I felt the love of the former there were not enough of you to pay commercial rent. Yep. I just said that.
Instead of being frustrated with the disconnect, I searched for my colorful tribe
I embraced "Tanglewood Sue" (the persona accidentally named by a Facebook mistype) and her wild ways and decided that if I just stopped trying to fit in and instead turned UP the volume on my crazy beacon, I would attract my people!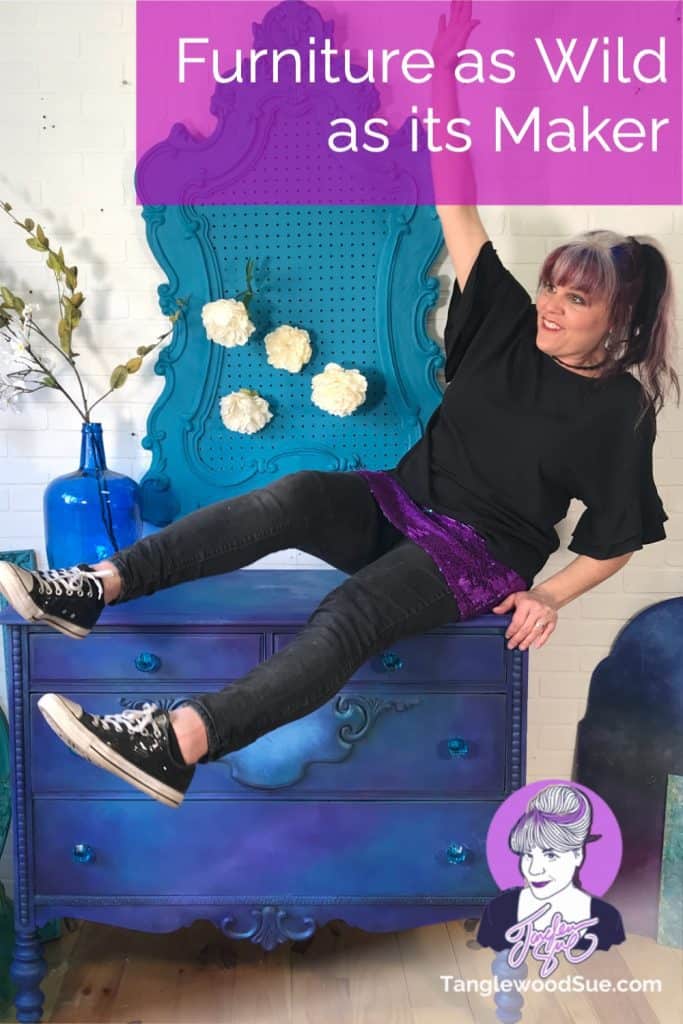 Furniture Artist Tanglewood Sue
It worked. It totally worked. And the best part is that I have actually connected with more locals who didn't even know I ever had a shop! OMG the irony is not lost on me...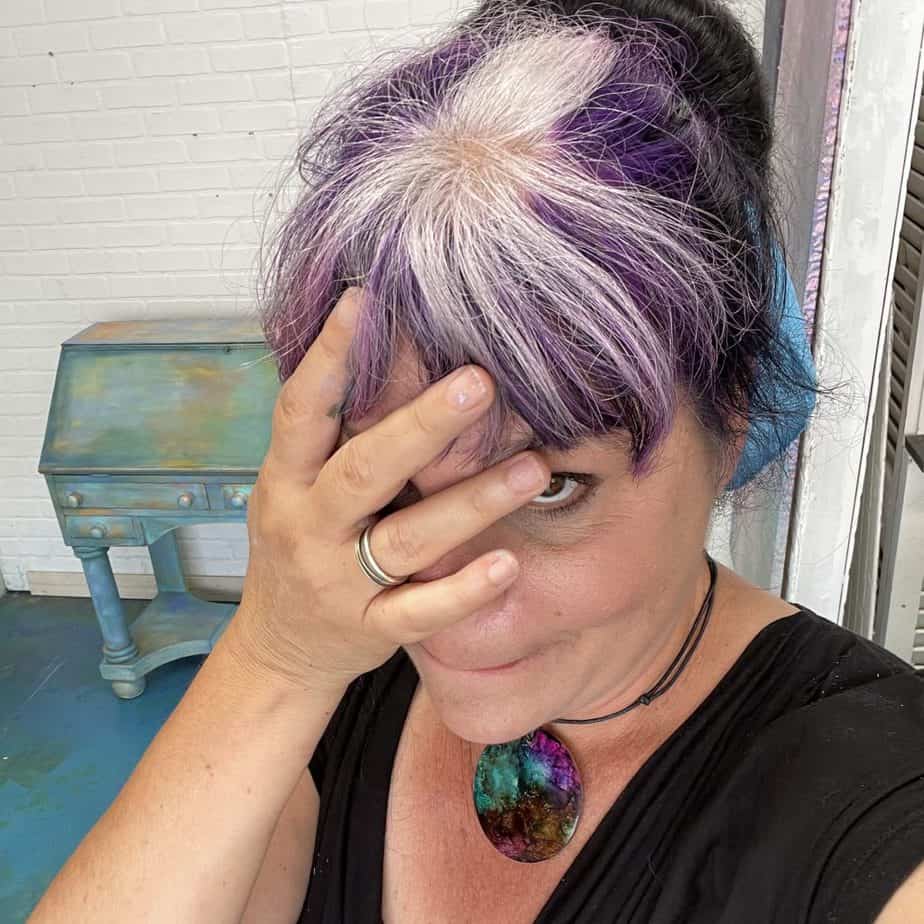 I know you guys love me cause I've won or placed every award imaginable for the past 8 years!
I'm so grateful to have realized that I can actually reach more people than I had ever imagined who want to learn from me and be a part of my ongoing stories right here on my blog.
Best Handmade Home Decor for 6 years I think? Best Green Business, Best Woman-Owned Business, Best Gift Shop. Although I was barely able to keep up, I felt deep pride and gratitude every time I was even nominated. I know my vision brought joy even if it didn't actually pay the rent. I am sincerely proud of that.
Thank you to the DCist, Washington City Paper, Hyattsville CDC, Hyattsville Life and Times & Streetcar Suburbs, Hyattsville Wire and The Washington Post and Route One Fun, for awarding us and covering our milestones through the years. Thank you also to the Comptroller of MD, the SBA, and to local tv stations like FOX 5 who actually allowed me to go LIVE on their channels...(Oh that was quite a moment wasn't it!)
I thought I needed a physical destination to create the community I was seeking. All my life I have created physical spaces for others to find comfort or inspiration or even just conversation. From my SadieDey's play cafe in Oakland California to the original Tanglewood Works, on Tanglewood Drive to my latest Hyattsville location, even a transformation of the empty buildings in Riverdale Park to a community concert and holiday fair destination. Creating a unique and welcoming space has always been a joy for me.
A preview for my first TroubleMaker Artisan Market
How a warehouse became the new Tanglewood Works
I promise to eventually write a little memoir of my time as a creative retail shop. I do think there are some valuable and somewhat emotional lessons that I would like to pass on to other small business owners. Tales of triumphs and tribulations, bureaucratic nightmares, shifting allegiances, leadership pitfalls, faithful supporters, and backstabbing with flair. Wow!
This could be quite a juicy memoir but It won't be a negative story
That's not how I roll. It will however be an honest first-person account of my small business journey for anyone who would benefit from a behind-the-scenes perspective. There is so much false advertising on social media and one thing I have always done is to give a real account of my journey.
You were all there from me when Tanglewood Works 3.0 massively failed and you all had to come to help me move out overnight barely a month after the opening party. Oh yeah. My first time crying on a live but the start of a real connection between us as I documented the entire road to recovery with you. I left nothing out and I think that is where I realized my community was not limited to my zip code.
But for today, I want to put all of that aside and just be grateful that so many people took a chance on me, supported me, worked for me, laughed with me, donated to me, listened to me, patronized me, and most importantly believed in me and continue to do so every day.
For that, I just want to say a sincere Thank You to all of you. If you are reading this then I mean you too.
The Hyattsville shop and the dreams I had for it are officially closed but the next door has already opened for me and I am excited and taking the win. You comin'??