Can You Paint Leather Furniture?
Can You Paint Leather Furniture?
Spoiler alert: Yes! Yes, you can paint leather furniture!
If you really want to stir up the internet someday, start painting a vintage leather chair. Honestly, you'd think I found a Picasso at the goodwill and decided to paint over it with chalk paint.
All attempts to explain that it was in the GARBAGE, set out on the curb on trash day, soaking in the rain were wholly ignored as I suffered the wrath of upholsterers all over the world calling for my immediate removal from this planet.
Well, ok, maybe just a thousand haters. But 60,000 more of you wanted to know how, when, why, and where to get the paint.
I've assembled all of your inquiries and I'm going to answer them all, right here. So sit tight and let's get started.
Chapters
Yes, you can paint leather furniture. It's a fantastic way to breathe new life into a dated or worn leather piece of furniture.
What kind of paint can I use to paint leather?
Chalk paint. Yep. You read that right. Specifically, Miss Lillian's No Wax Chock Paint. This paint is seriously the only way to go when painting leather furniture. It's made to adhere to just about anything and it will not flake off or chip like regular paint will over time.
Here's how I found out that it worked: I too wanted to transform a leather chair. I searched online and found the most boring leather paint colors ever. After more searching, lo and behold I found out, through a Facebook post, that the paint line that I already carry, Miss Lilian's no wax chalk paint, was actually a great choice for painting leather. I was slightly dubious but I called Marilyn, the owner of the company, and she confirmed that yes her paint has been proven to be an excellent choice for painting leather. I can now confirm that this is absolutely true. Read on.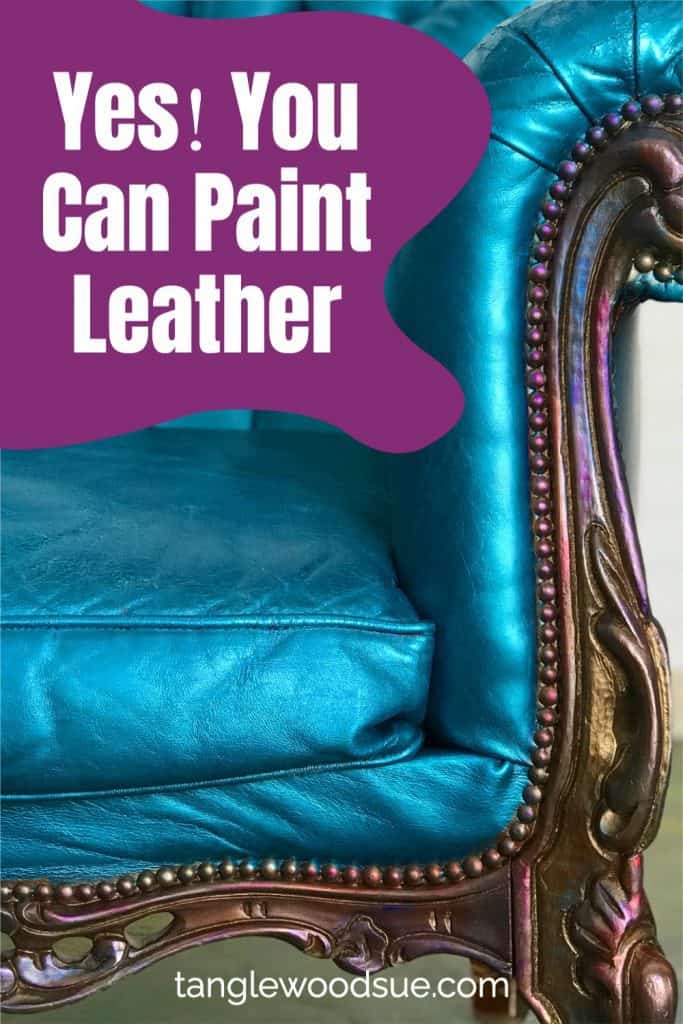 Are there other paints that I can use on leather?
Can you paint leather furniture?
There are other options I will elaborate on in this article but I will make my case for why this Miss Lillian's is the easiest and least expensive option.
You can use specially formulated leather paint as you see on amazon. Here's the thing though: there is a very limited color scheme based on what I can only understand as "car colors". I can only surmise that most people use these paints or dyes to repair car interiors. So if you want to paint your couch or sofa, brown, light brown, dark brown, camel brown, orange-brown, white, black, or maroon,- you're all set.
The other option is to use Angelus leather paint. This paint definitely comes in a slightly wider range of colors but they also are limited to four-ounce jars. So good luck with that one.
I know some people swear that they can repaint their leather sofa with latex paint. I don't buy it. Latex paint is not designed to stick to the furniture. I would say the same for your basic acrylic paint. You can certainly give it a go but my guess is that one hot summer afternoon, not too far from now, you and your whole family can have the joy of peeling off strips of this gooey mess off of your sofa.
When painting leather furniture, always test the paint in an inconspicuous place.
Why would you paint leather furniture?
Let's face it, furniture is expensive, especially leather furniture. I think there are two instances where painting leather is a great option. The first option is that you have a great leather chair or sofa but its not looking as happy as it once was. It may have some rips or tears or dreaded cat damage. Maybe you fix the damage but we're not able to fully match the original color of your couch or perhaps the original color of your couch has long since faded.
The other situation where painting leather furniture is the best option is when you are completely and utterly bored by the choices of leather furniture in existence on this planet. Because I have animals, I prefer leather furniture. It easily allows me to wipe off all manner of slobber and fur. A quick scour of any craigslist or marketplace will deliver an enormous amount of used leather furniture in the drabbest colors imaginable. So if your goal is to have some fun colorful, dare I say maximalist, style leather furniture then painting is the best way to go.
Why wouldn't you reupholster it?
I have great respect for those who have chosen upholstery as their craft. It is a labor-intensive complicated and rewarding trade that deserves to be paid as such. Unfortunately, this means that reupholstering may not be within the budget of people like myself scouring craigslist for a used couch.
I don't think the people yelling at me in the comments on social media, and yes there were quite a few, fully grasp what it means to live on a budget. Not everyone can afford this service and not every piece of furniture that you may want to UpCycle (click here to learn more about Upcyclng on WikiHOW) may be worthy of this kind of investment.
When should you NOT paint leather?
I personally would not attempt to repaint a brand new leather sofa that I paid a small fortune for. Luckily this will never happen because I'm not going to pay a small fortune for a leather sofa. The factory finish is the strongest finish any furniture will have and that goes for wood furniture as well.
How do you repair it first?
First off, I would definitely repair any minor blemishes cat scratches major rips or tears before prepping my leather piece for painting. Even though I have become somewhat Tiktok famous for my infamous toilet paper repair hack...
this is probably not where I would start. There are plenty of leather and vinyl repair kits available on Amazon or at your local auto parts store. I have not tested these so I do not have a favorite but I'm sure you can read reviews and find one that will work for your specific situation. If you plan to paint the entire piece, you do not need to completely match your repair.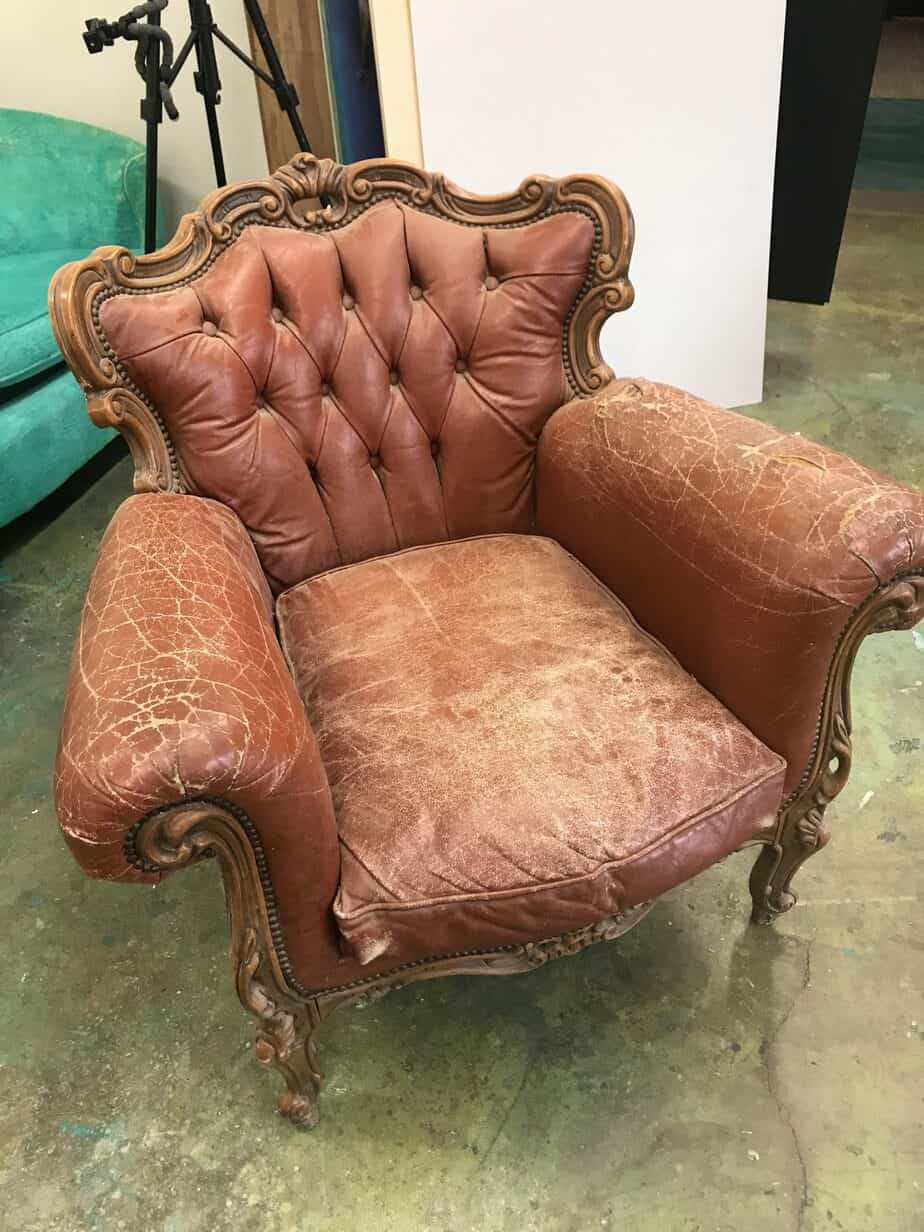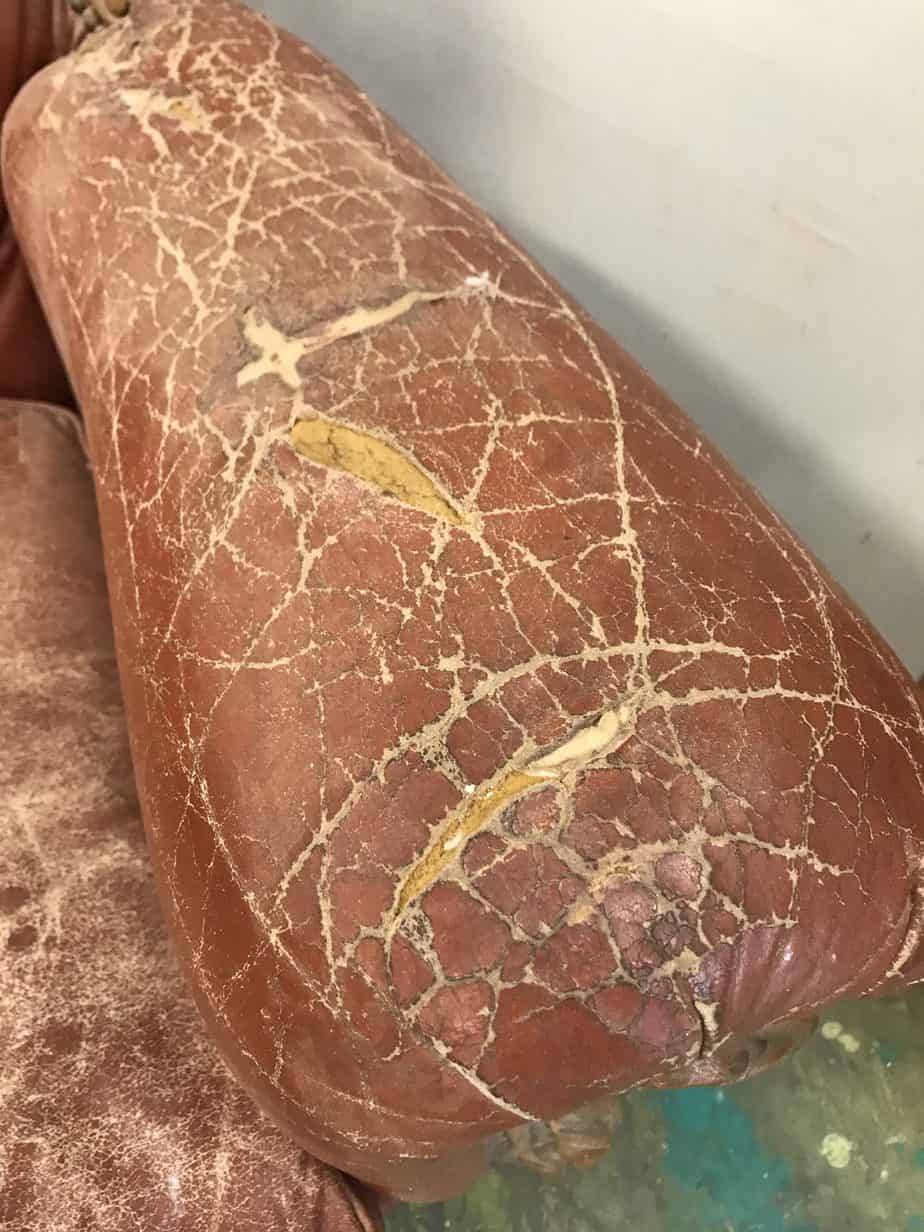 Why not paint leather with Angelus?
My daughter uses Angelus paint to paint her shoes, and I highly recommend this paint for small projects such as this. I did do a quick check online and I do not see that Angelus paints come in sizes larger than 4 ounces. Also if it did come in larger sizes price per ounce Miss Lilian's paints is still a much more cost-effective option. And if color is what you're after, miss Lillians comes in hundreds of colors including a wide range of metallics. Lastly, Miss Lillian's is non-toxic and safe to use around children and warning labels on Angelus paint convince me this is not the case with their paint
What are the steps?
1. Prep Your Leather.
Before painting your leather, you need to prep it.
Just like painting furniture, painting leather requires some prep work. In order for any paint to stick to the letter, the letter must be free of any oils dirt, and grime. Not only that, but the paint has a better chance of adhering if the leather has been slightly roughed up. Not bar fight roughed up but can you imagine? No I mean etched or slightly sanded. Luckily I have the perfect product that I also use on my wood furniture and that is First Step Prep also by Miss Lillian's. It's a cleaner and deglosser in one.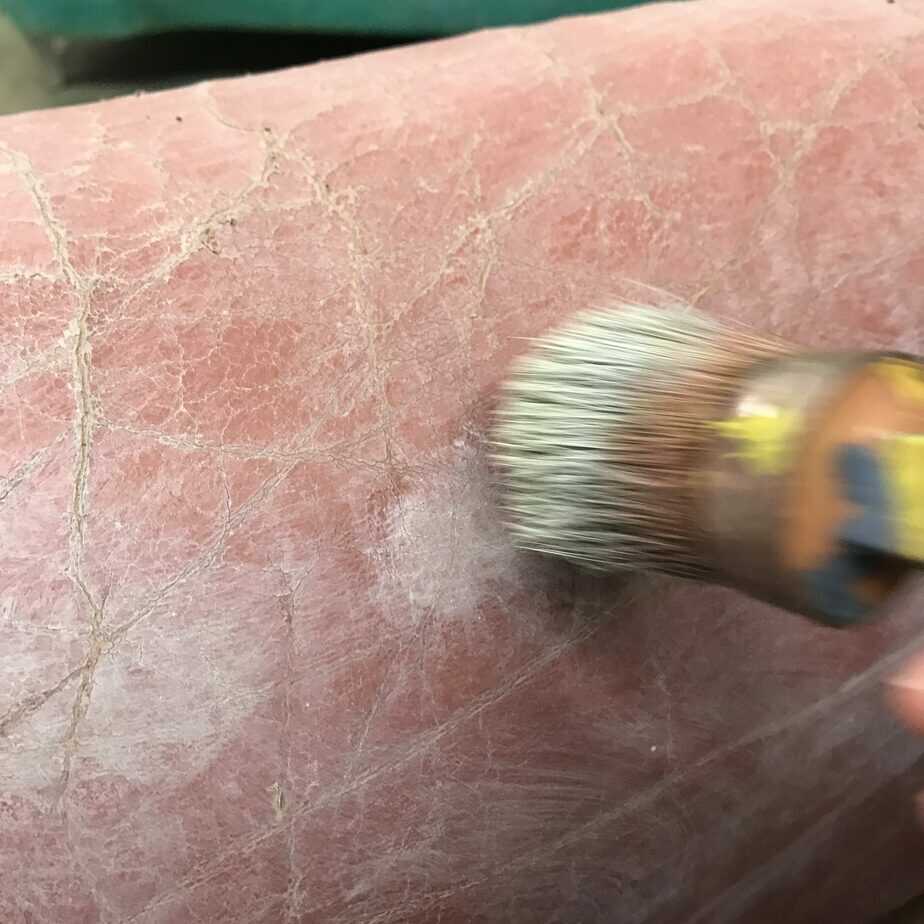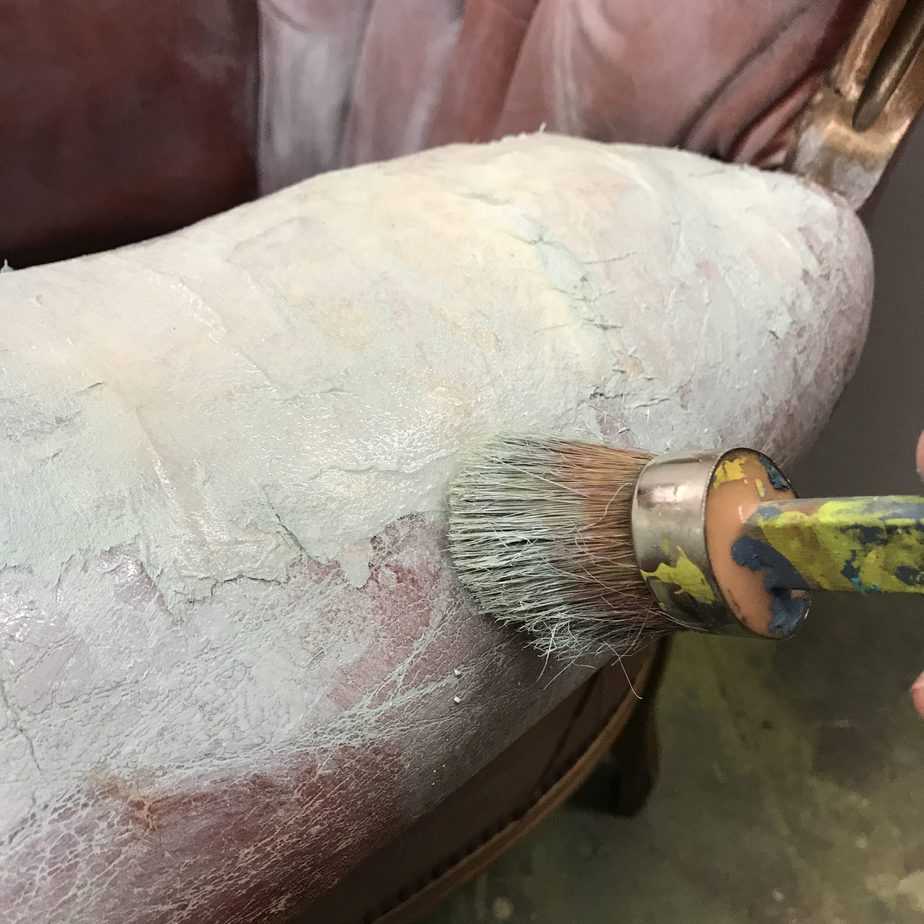 2. Paint the leather.
What's your piece is thoroughly cleaned and he got lost it's time to start painting. If you are painting your piece with a metallic, I recommend finding a similar color to paint as your base layer first. If you are painting a solid color that is similar to the current color of your sofa you can jump right in if you are going from very light to very dark or very dark to very light I would start with a color in between to start the gradual process of changing your sofa or chair's color.
Once you have that base color put a little bit on your brush and really work it into the leather. We are not going for full coverage here. We are just trying to work the paint into the letter so that we can ensure great adhesion for the next coat.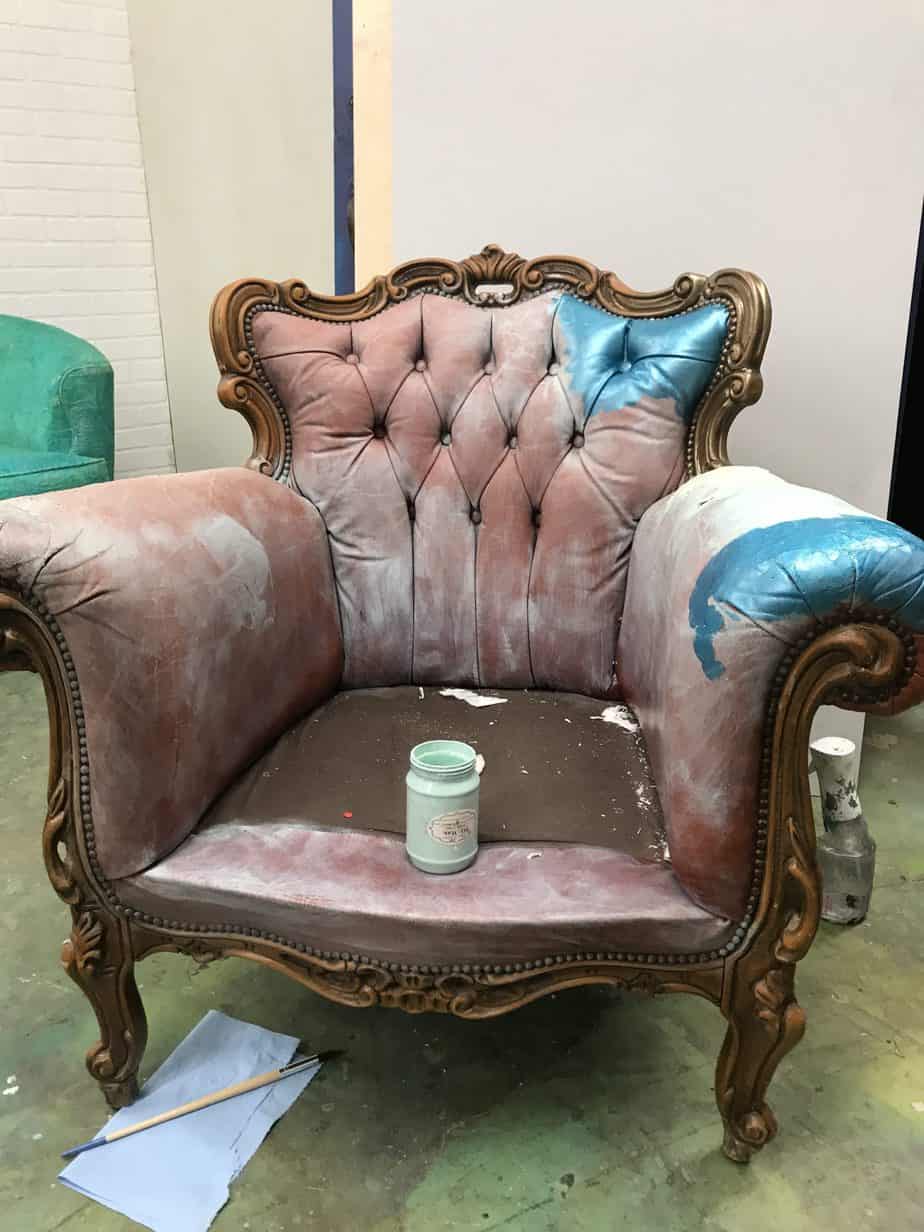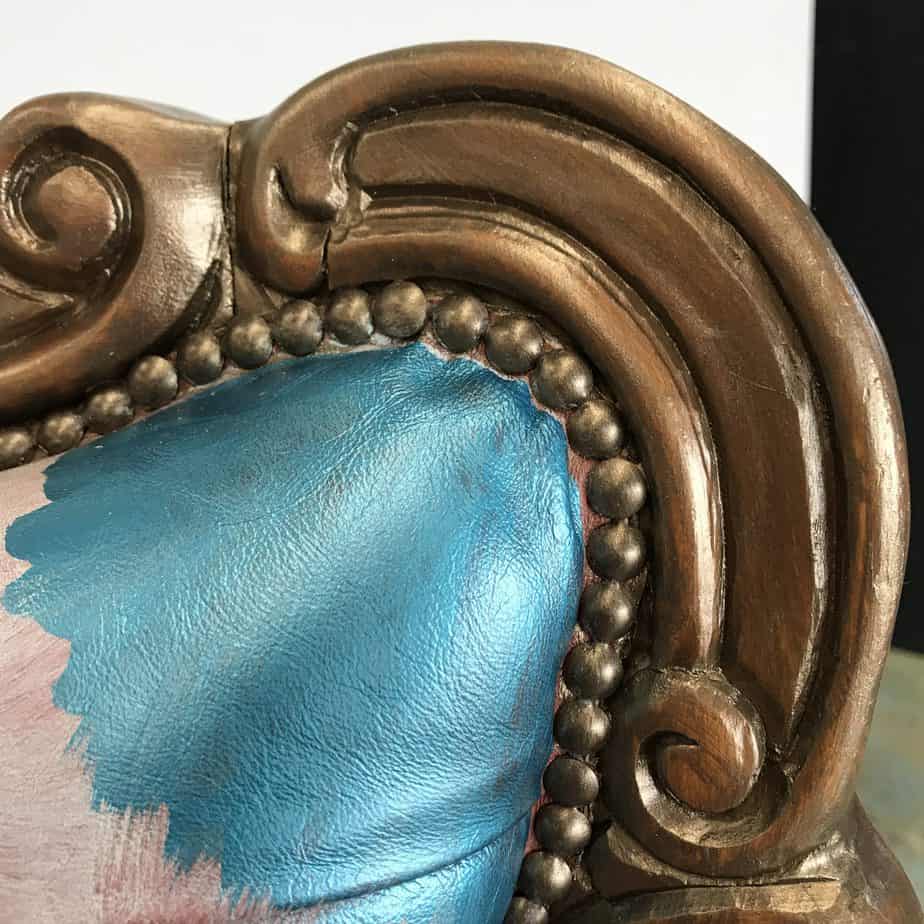 3. Let Dry and Repeat.
Let this paint completely dry, lightly sand, and then repeat. Basically in the same way we built up the layers of painting the fabric sofa we are doing the same with the leather.
4. Paint Leather With Your Final Color.
Once we have a couple of good solid layers down, switch over to your final color or metallic color. Start painting and I would recommend short random brushstrokes. The randomness of the brushstrokes will camouflage the fact that paint is being brushed on. This Lillians is self-leveling but I still find this to be a good practice.
5. Make Sure Everything is Covered.
Make sure you get into all the nooks and crannies and let your paint fully dry between coats. Once you can no longer see the color underneath you are done.
Stand back and admire the transformation.
Optional: Add a Clear Wax.
This next step is optional but one that worked well for me. Once my paint was fully dry I added a clear wax and rubbed it into the paint. You could also use a salve or a hemp oil. I felt like this kept the paint nice and soft.
Will the paint rub off on my clothes?
This must be the number one question I've gotten in the comments. To be honest, I don't really understand it. When paint dries you can't rub it off. When you paint your house and it rains it doesn't come off. If you lean against a wall in your home do you worry that the paint is going to rub off of you? I'm not trying to be a total sass here, but it's like people think that paint behaves differently on furniture than anywhere else that you would paint. So no, it will not rub off on your clothes.
Does the paint eventually peel off?
All I can tell you is that in the two years since I've painted my piece nothing has peeled off nor has anything shown any signs of becoming detached from the leather surface.
Will It crack?
Unlike latex paint or acrylic paints that seem to peel or crack over time when applied to furniture, Miss Lilian No Wax Chalk Paint has a flexibility to it that allows it to move with the leather as well as an adherence quality that keeps it bonded to the surface. The only place I saw any cracking was where there was already cracking on the leather itself. It has worn very naturally and very beautifully overtime.
Does it feel soft or is it hard? When the piece was first painted it had a bit of stiffness, so I applied Debi's Design Diary Clear Wax to the surface and over time the piece has only gotten softer and softer with use.
Does it need a topcoat?
This paint does not require any kind of topcoat as it's not right in but as I mentioned in the question above I did go ahead and apply a clear wax to keep the finish as soft and supple as possible.
In conclusion...
I need you all to know that I have basically sacrificed a small portion of my sanity in order to bring you this information. By that I mean my social media posts documenting the transformation of this fantastical chair have brought down wrath on me like nothing I could ever have imagined.
The unexpected silver lining from all this furniture painting vitriol is that the reality of this post landed me in front of people who were extremely excited to try this themselves. I hope that if you're reading this today you are one of those people who saw me on your F.Y.P. or on your reels and instead of taking your valuable time to berate me for fixing up a piece of trashed furniture on the side of the road you instead have decided to join me on this magically colorful cycling journey.
For more furniture painting advice, check my other blog posts and DIY furniture adventures!
Check out the full Leather Painting Tutorial Right Here:
Grab Your Painting supplies right here: